Transparency
As we're neck deep in a new Kickstarter, I thought it was a good time to go over the last and only other LFG Kickstarter we've done to date, LFG: This is War.
The purpose of that KS was to raise enough funds to finish an animated musical short, the spiritual follow up to Slaughter The World. Any left over funds would be put towards pre-production of the LFG Movie.
As a side note, the LFG Movie is something we've been working on for the last 5 years and something we'll be working on for the next 5 as well. It's a massive project, and the way we're doing it now, is going to take a great deal of time and money. Any other LFG projects we can get under our belts is a huge help to getting more financing for the movie.
But, back to Kickstarter!
I'm a huge fan of transparency, and the more you can see, the better you'll understand why we do the things we do.
So first, let's do the financials: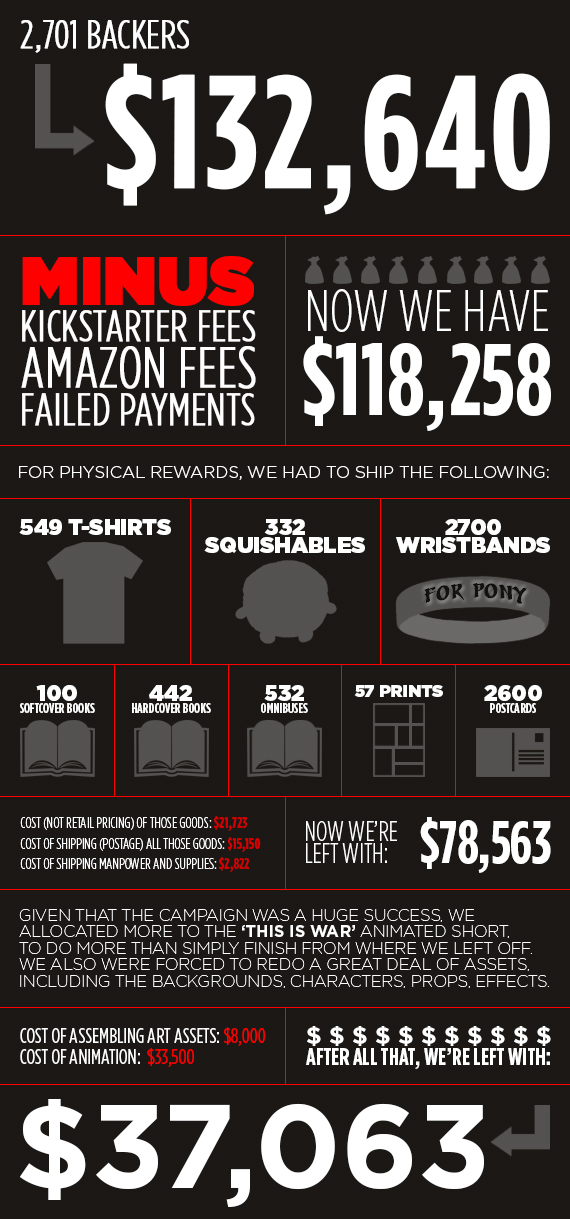 $37,063 transferred over to help fund a film with a projected budget of approximately $7,000,000. Granted, it's barely a drop in the bucket, but please don't be discouraged. We're using that coin on pre-production for the film, hiring a story editor to refine it and begin work on all the art assets.
Remember, as badly as you're waiting to see a feature length LFG film, Lar and I are waiting even harder.
If you're a backer, you've been updated throughout the process, but for everyone else: TiW is going live to Backers in very early August, and live to everyone else a week after that.
So, now w're busting our asses on LFG & The Fork of Truth, hoping for two things. 1, to create a ridiculously fun game that we'll all enjoy for years to come and 2, to add to that LFG: Movie War Chest.
Any questions?
-Because I Can.