Fork of Truth, K-2
2 days, folks, 2 days until we start the next part of this video game journey.
Today, I thought you'd enjoy seeing where all the action of LFG & The Fork of Truth will take place, the wonderful continent of Legara: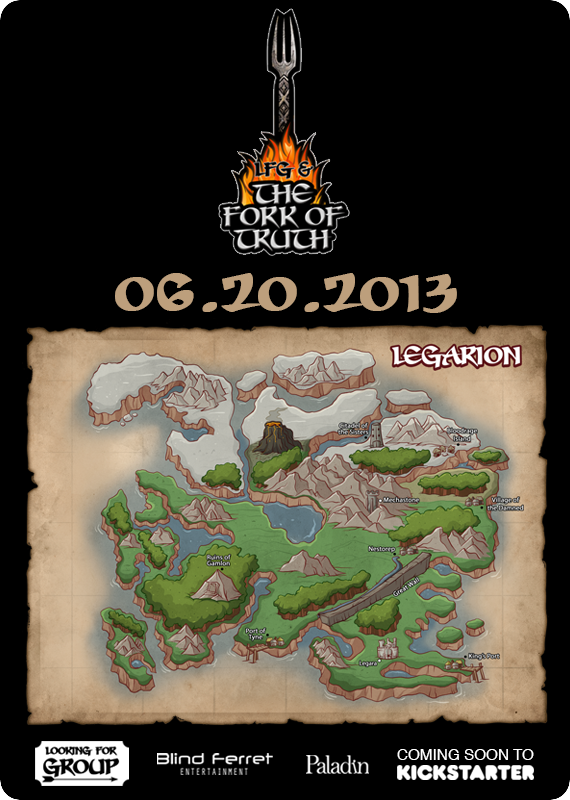 How about I answer a few questions?
How much will the game cost?
Early Adopters can get the game for 20$, one and done. No freemium crap afterwards, just a game in exchange for coin. You know, how the pilgrims did it.
Why isn't this game free?
Because things cost money. Making a video game cost a lot of money.
What Platform will the game be on?
To start with, we're going for PC/MAC.
Will the game be ported to other platforms?
That depends on you, and how well the Kickstarter does. There are many stretch goals that include ports to different platforms.
How is "This is War" Coming along?
If you're a backer, you already know. If you're not, it's coming along very well.
Will this affect the movie at all?
The movie is going to cost us between 5-7 million USD. That's a massive undertaking and takes time, along with a great deal of ground work. We're continuing to work on it, and making this video game will not affect the movie. At all.
Are you nervous about launching this Kickstarter?
Super a lot. Yes.
LFG & The Fork of Truth Kickstarter Campaign begins June 20th.
-Because I Can.